THE
ANNE MILLER
EXPERIENCE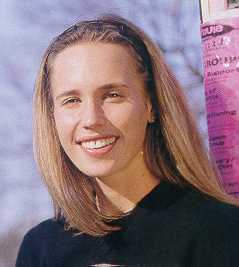 Welcome to the first World Wide Web site devoted entirely to on-again, off-again women's tennis pro Anne Miller. A native of Midland, Michigan, Annie climbed to a career high ranking of #40 in the world in September 1998. That happened to be the same month she took an extended leave of absence from the tour and began taking classes at the University of Michigan. Why did she put her promising tennis career on hold? This site will attempt to answer that question and others, giving you the who, what, where, when, how, and why of Anne Miller, an extraordinary young woman doing her best to lead an ordinary life.
AUGUST 2000 UPDATE: Anne made a brief return to the tennis circuit, scoring her first victory in nearly two years by upending Erika de Lone in Montreal. I conducted an interview with her there and took about a dozen pictures.
OCTOBER 2005 UPDATE: This article gives the latest on Anne, who's now married, living in Massachussetts, and working for a sports marketing firm.
BACKGROUND: A summary of Anne's career and explanation of how this site came into being
BIO: Biographical information about Annie Miller
IMAGES: A gallery of Anne Miller photos
ARTICLES: Newspaper/magazine pieces about Annie
CAREER: Comprehensive list of Anne's main draw singles results
MATCH REPORTS: Recaps of Miller matches I attended in 1997, '98, and '99
E-mail me with any comments, questions, or contributions you may have. Feedback is always appreciated!